Housing support for vulnerable people inquiry ordered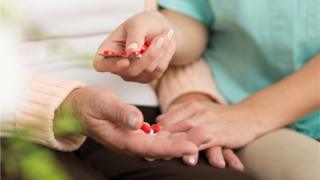 A £125m scheme to help vulnerable people live in their own homes is to be investigated by assembly members.
Supporting People helps around 67,000 people including elderly people and others with mental health needs.
In August, the Wales Audit Office criticised "inconsistencies" in the way funding was allocated and managed.
Public Accounts Committee chair Nick Ramsay said the Welsh Government did not have a good enough idea of the programme's impact after 14 years.
Since the programme's launch in 2003, local councils have been given money to fund housing support services for vulnerable people, either directly or via third-party providers.
It helps them stay in their own homes and ease the pressure on health and social services, with the majority of those helped - around 40,000 - being older people.
'Pace of progress'
Following the critical Wales Audit Office report, concerns were also raised in October that the Welsh Government's draft budget for 2019-20 no longer protected the money, with local councils promised more flexibility on how to spend it.
Announcing the inquiry on Wednesday, Mr Ramsay said: "The Supporting People Programme delivers what are undoubtedly valuable services to vulnerable people in a range of different circumstances.
"However, the pace of progress is a concern and it is disappointing that the Welsh Government still does not have a good enough understanding of the programme's overall impact some 14 years on from its initial launch.
"We will be looking at how the programme is developing to meet the needs of some of the most vulnerable people in our society, how almost £125m is being spent, and how the effectiveness of these services and all that money is being monitored."
A Welsh Government spokesman said, "We have always acknowledged the need to regularly review the Supporting People Programme to ensure it is delivered effectively and efficiently and continues to makes a real difference to people's lives.
"We will work closely with the Public Accounts Committee to inform their work of their inquiry and will consider any recommendations on how we can improve the way we deliver support to some of our most vulnerable citizens."