Social mobility: Affluent areas 'failing' poorer children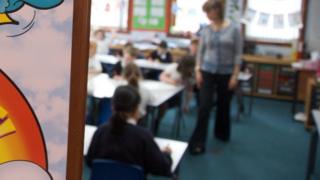 Affluent areas of Wales are failing pupils from disadvantaged backgrounds, according to a major new study.
Large gaps between the attainment of children from poorer and better-off backgrounds are revealed in the Social Mobility Commission report.
The study says disadvantaged youngsters, particularly in deprived areas, appear to lose out most in both their early years and school years.
But Monmouthshire and Pembrokeshire had the biggest attainment gaps.
These are two of the least deprived parts of Wales.
The commission, chaired by the former Labour cabinet minister Alan Milburn looked at people's early years, schools, youth and working lives to assess the life chances of youngsters from different backgrounds.
The State of the Nation report says: "Monmouthshire has the lowest concentration of deprived areas in Wales but has an attainment gap for disadvantaged pupils of over 41 percentage points.
"In Pembrokeshire, this gap is over 40%."
It adds: "The place with the highest concentration of deprived areas, Blaenau Gwent, does relatively well on the attainment gap, but this may be as a result of all pupils scoring much lower than the average."
Pisa: Wales still worst in UK in world education tests
Teaching 'weakest aspect' of education in Wales
'Waste of talent' as poor pupils lag behind richer peers
The reports says high levels of poverty in Wales have an impact on every life stage.
"Currently, nearly a quarter [23%] of all individuals in Wales live in poverty - higher than in all regions in England and Great Britain, except London and the West Midlands."
The report concludes that although more pupils on free school meals achieve good grades compared to 10 years ago, the gap between them and the rest has continued to grow as those not receiving free school meals have improved their performance event faster.
It adds: "Every local authority area in Wales has relative strengths and weaknesses across the life stages. But it is disadvantaged youngsters, particularly in areas with high levels of deprivation, who appear to be losing out most in the crucial early years of their lives and in their school years.
"In Torfaen, as few as 18% of young people eligible for free school meals achieve the equivalent of grades A* to C GCSE in the Core Subject Indicator.
"But affluent areas are also failing their disadvantaged pupils, with attainment gaps as large as 41 percentage points in Monmouthshire where seven in ten more advantaged youngsters achieve good grades."
'Social mobility engines'
The report highlights the variations that can occur within a small area.
It says: "As an example, the north of Wales contains the second worst performer, Conwy, bordering with Gwynedd, a relatively strong performer, and Denbighshire, a middling performer."
The commission says that cities "are not social mobility engines for their residents in Wales", while it also says that "Wrexham scores very badly, as do a number of more urban areas in the south, particularly Neath Port Talbot and Blaenau Gwent".
"However, it is not the case that rural areas correlate with good performance, as the bottom scorers also include areas such as Conwy and Pembrokeshire."
The report adds: "Living in an area with proximity to an urban centre does allow access to higher rates of better-paid jobs and better wages, but it does not necessarily mean better access to services and facilities.
"It also does not mean that young people are more likely to achieve a positive destination after school. There are higher proportions of young people not in education, employment or training after Year 11 in Cardiff, compared with rural areas, despite better outcomes in working lives and the presence of a number of higher education institutions."
Analysis by Bethan Lewis, BBC Wales education correspondent
The reasons why poorer pupils have worse outcomes on average than their better off classmates are often deep-rooted and complex.
But the Welsh Government has made closing that gap in performance one of its core aims as part of what it calls its "national mission" for education.
Extra funding for pupils on free school meals through the Pupil Development Grant is its key tool for addressing the issue.
Ministers say they have made progress in recent years though the gap at GCSE remains stubbornly high - at over 32% according to the most recent figures.
The Social Mobility Commission report highlights that the gap is well above the Welsh average in some of the more affluent counties, including Monmouthshire.
But there is a smaller margin in some poorer local authority areas because the performance of all pupils is lower than the Welsh average.
And though the report says that counties like Monmouthshire are "failing their disadvantaged pupils" when they reach GCSE stage, in the early years Monmouthshire delivers the best outcomes in Wales for disadvantaged pupils.
Working out what happens in the intervening years is a challenge for that council and for government officials as they attempt to tackle one of the most stubborn problems in the education system.
A Welsh Government spokesman said: "Despite the impact of austerity, and the severity of the UK Government's welfare reforms, we are working hard to increase prosperity and help people out of poverty.
"Unemployment in Wales is falling faster than the UK as a whole and continues to be lower than the UK average. Closing the education attainment gap and improving skill levels are top priorities for this Government and represent the most effective levers at our disposal to tackle poverty in Wales.
"We are continuing to invest in the early years of a child's life as this is where we can have most impact in terms of improving health, education and other outcomes later in life. We are also developing a fresh approach to improving prosperity in the South Wales Valleys, which is being driven by a Ministerial Taskforce."