'Serious questions' on £51m A465 road overspend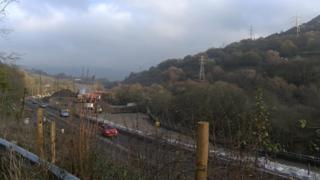 There are serious questions over how a road project projected to run almost £51m over budget went "so badly wrong", Plaid Cymru AM Steffan Lewis has said.
Mr Lewis said he wants to know who will pick up the price tag for the delayed A465 Heads of the Valleys scheme.
Welsh Government is in dispute with contractor Costain over the project to add an extra carriageway between Gilwern and Brynmawr.
Costain has said it continues to work with the Welsh Government.
Welsh Government said on Monday that Costain found the project - which involves widening the Heads of the Valleys Road through the Clydach Gorge - "far more difficult to deliver than they originally envisaged" due to the "topography" and "complex ground conditions".
It confirmed that completion of the project, which is now projected to cost around £270m, was delayed until autumn of 2019.
Mr Lewis, who represents the assembly region of South Wales East, said: "There are serious questions to ask about the procurement process here.
"How did this go so badly wrong, when we consider that there should have been a procurement process that identified and prevented this outcome?"
Mr Lewis said he was "keen to know who exactly is going to pick up the price tag for it running over time and over budget", and said the Welsh Government had been "reluctant to come clean" about the issue despite it being raised "over a considerable period of time"
"I think its appropriate now that either Ken Skates as the cabinet secretary for Transport, or Mark Drakeford as the finance secretary come before the assembly to give a full oral statement so they can be cross examined," he said.
The Welsh Conservatives called for the Wales Audit Office to investigate.
Russell George, the Conservatives' economy spokesman, said: "The Wales Audit Office has already undertaken analysis of the Welsh Government's approach to major road projects, and we'd like to see an investigation into the procurement process itself.
"In particular, we need to be reassured that the Welsh Government is taking appropriate steps to protect the taxpayer from delays which are beyond government control."
Welsh Government has estimated the overspend to be £50.83m.
Mr Skates said on Monday the Welsh Government was "currently in dispute with Costain on a number of matters around the allocation of risk in the contract to ensure they are only paid what they are contractually entitled to".
A spokesman for Costain said: "We do not comment on specific commercial discussions in relation to our clients but continue to work closely with the Welsh Government to deliver this complex project."