Wales Office minister 'unable to welcome' Trump visit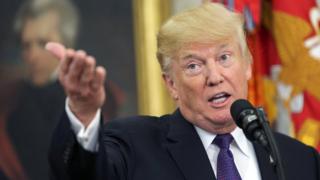 A Wales Office minister has said he feels "unable to welcome" Donald Trump on a state visit to the UK after he retweeted three inflammatory videos by a British far-right group.
Conservative peer Lord Bourne said "millions" of Britons were "appalled" by the US president's conduct.
On Thursday, Home Secretary Amber Rudd said Mr Trump had been invited to make a state visit and he had accepted.
Welsh MP Stephen Doughty said: "We must all take a stand against hatred."
Putting an urgent question to Ms Rudd about Mr Trump's retweeting of videos posted by Britain First, the Labour MP for Cardiff South and Penarth joined a series of politicians from Wales in calling for any plans for a state visit to be abandoned.
"We must all take a stand against hatred, from wherever it comes, otherwise we will slip into the darkness," Mr Doughty said.
Ms Rudd said the invitation for a state visit "has been extended and accepted" but the "dates and the precise timings have yet to be decided".
She repeated Downing Street's condemnation of Mr Trump's actions, saying he had been "wrong" to share the posts by the far-right group Britain First.
Ms Rudd emphasised the UK government would "not tolerate any groups who spread hate by demonising those of other faiths or ethnicities".
But she urged critics of the president to remember the importance of the transatlantic alliance to Britain, saying intelligence sharing between the two countries had "undoubtedly saved British lives".
"That is the big picture here, and I would urge people to remember that," she added.
Earlier, Lord Bourne tweeted: "Millions of fellow Britons of all races and religions and none appalled by conduct of @realDonaldTrump - understandable that they feel unable to welcome him here under these circumstances nor could I."
Rhondda MP Chris Bryant told the House of Commons later on Thursday morning the president's retweets had been "deliberate and intentional".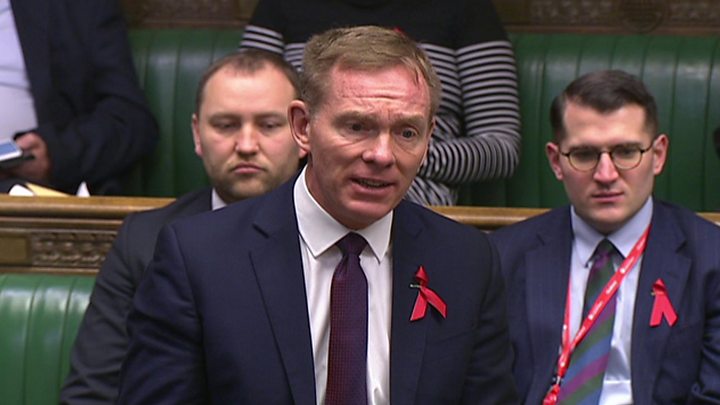 "Donald Trump has decided to stand by Britain First," he said.
"You cannot stand up to horrible racism - or pretend to do so - and invite the man in through the front door."
Plaid Cymru Ceredigion MP Ben Lake said the "messages of hate spread by the president" should be "condemned for the vile acts they truly are".
"I urge the government to rescind its offer of a state visit to a president who has used his global platform to promote intolerance," he said.
Mr Trump insisted the prime minister should focus on "terrorism" in the UK, after she criticised his sharing of the videos.
"Don't focus on me, focus on the destructive Radical Islamic Terrorism that is taking place within the United Kingdom," Mr Trump tweeted.
The president accepted an invitation for him to make a state visit to the UK when Theresa May visited Washington last January.
State visits are grand, ceremonial occasions, but have a political purpose too, with governments using them to further what they see as Britain's interests.