First minister and ex-colleague in staff complaint row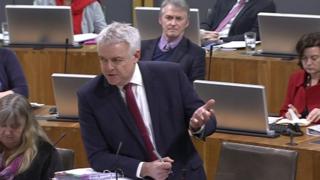 A row has broken out between the first minister and one of his former colleagues over whether complaints were made about the conduct of Welsh Government staff three years ago.
Allegations of bullying made by Leighton Andrews dominated First Minister's Questions on Tuesday.
Carwyn Jones denied Mr Andrews made a complaint about staff conduct in 2014. Mr Andrews said he did.
Welsh Tories said it raised further questions.
Leighton Andrews, former Rhondda Labour AM who served as a public services minister with responsibility for local government, has alleged a culture of bullying in the heart of Welsh Government.
He made the complaints in the wake of the death of Carl Sargeant earlier in November.
The first denial during First Minister's Questions in the Senedd came in response to the leader of the Welsh Conservatives Andrew RT Davies.
Mr Davies asked: "Did Leighton Andrews make a complaint of any nature in 2014 about the conduct or behaviour of members of staff in the Welsh Government or your office?"
Mr Jones replied: "No."
He later added: "I have said no allegation was made by Leighton Andrews to me in regard to bullying.
"Were there issues that arose? Yes there would be conflicts now and again between people, disputes about the titles of bills for example.
"When you have a talented team of people, sometimes they would rub up against each other."
Leighton Andrews then challenged Mr Jones' comments via a statement on Twitter, which read: "In November 2014, I told the first minister face to face that I believed that the code for special advisers had been broken.
"I asked him to carry out a formal investigation. He said he would."
This was read out in the chamber by Plaid Cymru's Simon Thomas, and denied again by the First Minister, who was heard to say 'It's not true".
Mr Jones' answer was not part of the proceedings.
The first minister has earlier said he had never dealt with any "specific allegations" of bullying in the Welsh Government.
He had faced questions from opposition AMs over an alleged discrepancy between an answer he gave in 2014 that no allegations of bullying had been made, and one last month that said issues at the time were "dealt with".
In the wake of that the Welsh Government has commissioned James Hamilton, the independent advisor to the Scottish Government, to investigate whether Carwyn Jones misled the assembly,.