Call for 'latte levy' to cut cup waste is backed by MPs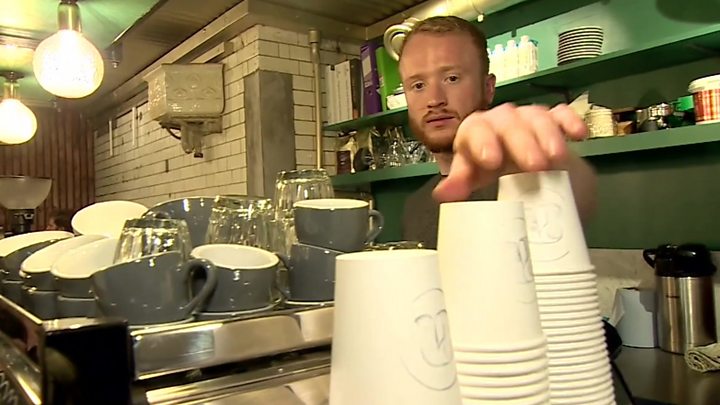 Calls to make people pay more to use disposable coffee cups - a plan already being considered in Wales - have been taken up by a committee of MPs.
They want UK ministers to impose a 25p "latte levy" per cup, on top of the coffee price, to fund better recycling and reprocessing systems.
The UK throws away 2.5bn coffee cups each year, the committee was told.
Welsh ministers are considering asking for powers to tax the cups and other plastics that are difficult to recycle.
Disposable coffee cups can be tricky to recycle because most are made with a combination of paper and plastic.
The report, by the Commons' Environmental Audit Committee, calls for better labelling for consumers, and for UK ministers to introduce measures to make sure all coffee cups are recycled within five years.
Committee member Anna McMorrin, Labour MP for Cardiff North, said: "We all use them, but as the committee discovered hardly any are recycled and most are littered, resulting in 2.5bn a year being thrown away.
"That's enough to circle the planet five and a half times."
Ms McMorrin said the Welsh Government had "led the way in the UK" by introducing a charge for carrier bags and "we've seen single-use carrier bag usage drop by 71%".
"That's why the committee believes that introducing a 25p charge on disposable coffee cups could have the same impact on consumer behaviour, and encourage people to carry their own reusable coffee cup."
She added: "With the coffee shop market expanding rapidly, and more coffee cups being produced, we now have the opportunity to kick start a revolution in recycling.
"We need coffee cup producers, distributors and governments to take urgent action to rectify this - and if they can't achieve this by 2023, then they should be banned."
'Struggling high streets'
But Mike Turner, of the Paper Cup Alliance, said they were the most sustainable and safe solution for drinks on-the-go.
"The paper cups we manufacture in the UK are sustainably sourced, responsibly produced, recyclable and, through a number of facilities, are being recycled. We are committed to increasing recycling rates," he said.
"Taxing the morning coffee run will not address the issue of litter, but it will hurt consumers and impact already struggling high streets."
Welsh Finance Secretary Mark Drakeford has said he will take proposals to UK ministers, based on one of four possible options for a new Welsh tax, later this year.
The three alternatives to a disposable plastic tax are a tax on vacant land, one to fund social care and a tourism tax.
The proposals would require approval from assembly members, the UK government and Parliament before they could be implemented.
Plaid Cymru climate change spokesman Simon Thomas said: "I'm confident the best option is to have a polluter pays principle when it comes to taxation and introduce a plastic levy. This could easily include coffee cups."