Disney cartoon, sword and chips in Welsh councillors' gift list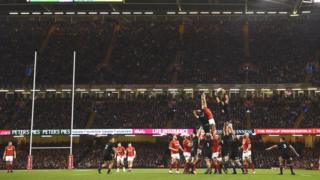 A sword, an original Disney cartoon print and tickets for the Champions League final are some of the gifts given to Welsh councillors.
Conwy council's chief executive was given tickets to the British Grand Prix three times - worth about £1,400.
Councillors and bosses have to declare gifts and hospitality received - with details gathered from all 22 local authorities for the past four years.
The Welsh Local Government Association said each council had its own policy.
By far the most common gifts were hospitality tickets to sporting events, including rugby events such as the World Cup and Six Nations and football events like the Champions League final and 2016 European Championships in France.
There were also other items such as circus tickets, a book of Shakespeare's comedies, tea leaves, flowers and even bus passes.
During his tenure between 2014 and 2017, Cardiff council leader Phil Bale received an original Walt Disney cartoon from Robert Iger, chairman and chief executive of Walt Disney Studios.
He was also given a solar watch from the Deputy Mayor of Stuttgart, silver cufflinks from the president of Ireland, Vodka from the Ukrainian Embassy, a personalised football shirt from City of Stuttgart council, and a birthday cake from a bakery - which he donated.
The city's mayor also received a Nepalese sword from the ambassador of Nepal, while other gifts to councillors included a bottle of Madeira Port, restaurant vouchers, silk scarves, and four bus passes.
One Newport councillor was given a book depicting the history of Friars Walk, while another got two packs of Ethiopian coffee beans.
In Anglesey, there were invites to a Tom Jones concert, arranged by broadcaster Sky, while in Denbighshire one councillor gave the retiring chief executive a red glass dragon.
Of the 11 gifts and invitations declared in Anglesey, four were gifted by Horizon Nuclear Power, the company behind Wylfa.
The most expensive gifts recorded were given to Conwy's chief executive who got hospitality tickets to the British Grand Prix at Silverstone three times at the estimated value of £1,400.
He was also given tickets to the Ashes from Glamorgan Cricket Club, valued at £150.
In Pembrokeshire, councillor Keith Lewis "unexpectedly" got a £100 cheque from S4C for representing the council to advertise "Pembrokeshire Fish Week", which he said he would donate to a local school.
A bunch of 100 flowers were sent to councillor Mary Barnett on her retirement, while other councillors got a bottle of wine as a thank you gift, a fish and chip supper and a monthly magazine subscription from a local railway society.
In Wrexham, one councillor was given a book of Shakespeare's Comedies by the town's university, and in Monmouthshire one councillor got a bottle of non-alcoholic wine, and Powys's chief executive got tickets to a Battle of Buttington re-enactment.
All councils keep registers of gifts given to councillors and chief executives to maintain openness and transparency.
This is important to ensure there is "no conflict of interest" in their work, according to the Taxpayers' Alliance.