Gender pay gap: Welsh Labour 'failing' women civil servants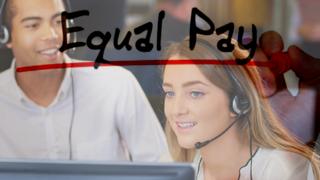 Women are being "failed" by Welsh Labour ministers, the Conservatives have claimed, with men taking the majority of senior civil service jobs.
The Tories said men outnumbered women by nearly three to two in jobs paying above £50,000, while for lower salaries it was the other way round.
The Welsh Government admitted it "isn't good enough", aiming for 50:50 by 2020.
But it claimed women filling 42% of senior jobs now compared "favourably" with most Whitehall departments.
The Conservatives highlighted figures from the most recent Welsh Government's Annual Employer Equality Report - for 2015/16 - to claim Labour was failing to close the gender pay gap in the Welsh civil service.
Women were in the majority, accounting for nearly 3,500 of the Welsh Government's workforce of just under 6,000.
The vast majority of women civil servants - nearly 3,100 - earned less than £50,000 compared to just under 2,000 of the men.
For more senior posts paying more than £50,000, the gender balance was reversed - with 527 men and 390 women in the higher grade jobs.
Conservative AM Janet Finch-Saunders AM said: "The Welsh Labour administration is fond of touting itself as a progressive and modern government but when it comes to the equality of pay this just isn't true.
"Platitudes and virtue-signalling just don't cut it. Welsh Labour is failing women and while recruitment and promotion should be based on merit, greater efforts must be made to source female talent."
The Welsh Government said it was "making progress" towards a commitment to achieving a 50:50 split of senior service jobs between men and women by 2020.
It claimed that with women currently filling 42% of senior jobs - those paying above £50,000 - it compared "favourably" with "the majority" of UK government departments in Whitehall.
A Welsh Government spokesman said: "Whilst the pay arrangements for senior civil servants are not devolved, we do recognise this isn't good enough and we are fully committed to do everything we can to close the gender pay gap."
The equality report showed that on average women employed by the Welsh Government earned 8% less than men.
Figures released by the UK government in December showed an average pay gap of 12.7% across the civil service, with the Department for Transport reporting the highest pay gap of 16.9% and others such as the Brexit department, Health, the Foreign Office and the Home Office all more than 10%.
Cerys Furlong, chief executive of equalities charity Chwarae Teg, said: "The gap shows that women are still not able to progress to the most senior, high paid jobs in the same way as men.
"It is important that the government leads the way on this issue and takes positive action to tackle the barriers that are currently in place.
"Relatively small steps, such as introducing flexible working practices, allowing remote working, encouraging shared parental leave and reviewing recruitment materials, can go a long way to reducing the gender pay gap."