Plaid Cymru AM opens door to working with Tories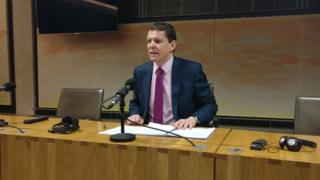 A Plaid Cymru AM says he is willing to work with the Conservatives in government, but not under a Tory first minister.
Rhun ap Iorwerth's comments strike a softer tone than Plaid leader Leanne Wood, who has ruled out any form of deal with the Tories.
Welsh Conservative leader Andrew RT Davies has called for parties to co-operate.
Mr ap Iorwerth said it was not currently a "live issue" for Plaid AMs.
Mr Davies said the Tories want to work with other parties in the run up to the next Welsh Assembly election in 2021, so voters are offered an alternative to Labour.
Last August, Mr ap Iorwerth told a BBC Radio Cymru discussion that he would consider standing for Plaid Cymru's leadership if Ms Wood were to step down.
He told a press conference on Tuesday: "I would never be in a smaller party in any agreement led by the Conservatives.
"Would I let a Tory be first minister? No, I would not be comfortable with that."
The Ynys Mon AM left the door open to an arrangement between the parties, saying: "All kinds of relationships can develop between the most unlikely parties."
"If there were an innovative group of Labour party members or Conservative, that decided, 'well, Plaid Cymru has an excellent programme for government and we want to support that, we don't want to go into government but we will support them', that appeals, certainly."
Ms Wood has said she will never go into coalition with the Conservatives or UKIP. She opposed forming a Plaid-led coalition that included the Tories under her predecessor Ieuan Wyn Jones in 2007.
However, the Conservatives and UKIP backed Ms Wood in a deadlocked Senedd vote to choose a first minister following the 2016 election, before Plaid agreed to back Labour's Carwyn Jones in a fresh vote the following week.