Wales rail franchise bidder seeks Carillion replacement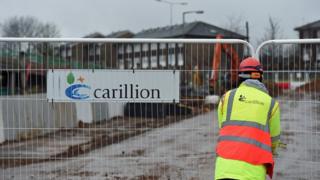 A competitor for the next Wales and Borders rail franchise is trying to save its bid after the collapse of construction and public services contractor Carillion.
Carillion was involved in a bid led by Dutch-owned transport giant Abellio to run the franchise from this October and build the South Wales Metro.
BBC Wales understands Abellio is looking for another company to replace Carillion, which collapsed this week.
Abellio said it remains in the running.
Transport for Wales - the authority overseeing the bidding process - will have to be satisfied the bid can continue if Abellio finds another partner.
A source said: "Obviously we are trying to make it work, trying to make the bid feasible. We are having discussions to work out how we can."
Carillion was the bid's infrastructure partner, not the main construction partner. Abellio hopes that will make it easier to replace.
In a statement, Abellio said: "Abellio Rail Cymru (ARC) acknowledges the decision by Carillion PLC to enter into liquidation on Monday 15 January.
"We remain in the contract letting process for the Wales and Borders Rail Service and South Wales Metro being administered by Transport for Wales (TfW) and are bound by the procurement rules governing that process.
"During the duration of the competition we will make no further comments or issue any press releases relating to our bid unless there are any changes in our position."
Ministers have faced questions in the Senedd about what Carillion's failure means for the Metro.
If Abellio was forced out, it would leave two bids by MTR and KeolisAmey.
The shortlist of potential operators shrank from four to three last October when Arriva, which holds the current franchise, suddenly pulled out.
The next franchise is due to start in October.
Plaid Cymru economy spokesman Adam Price said inconclusive answers by ministers suggested it was "increasingly likely now that there will be just two bidders left in the Wales and Borders franchise".
There are also questions about why the Welsh Government contracted Carillion to design two road junctions on the A55 last year.
The contract was signed before a profit warning about Carillion last July. Ministers said officials "thoroughly investigated" the deal after the warning.
Plaid said the Welsh Government is guilty of the same mistake as the UK government - awarding work to Carillion when it knew there were doubts about the health of the business.
A Welsh Government spokesman said: "We are currently considering options with our advisers to look at ways to progress the design element of the Junctions 15 and 16 (A55) scheme so delivery of this important project can be undertaken without disruption to the timetable."