Welsh Labour ministers split on leadership election rules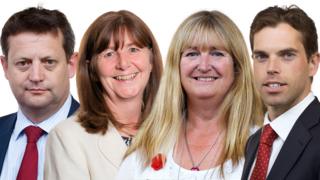 Carwyn Jones's cabinet is divided over the rules Welsh Labour will use to elect its next leader.
Party bosses, backed by the first minister, have decided the next Welsh leader will be elected under an electoral college, not one-member-one-vote as used to elect Jeremy Corbyn.
But most Labour members of the cabinet think the votes of ordinary party members should be given more weight.
A source close to the first minister said the rules had been "put to bed".
A campaign is underway to overturn the decision, setting the scene for a clash at Welsh Labour's conference in April.
The current Welsh Labour leader - First Minister Carwyn Jones - has not yet announced when he will stand down.
But when he does, it will trigger a contest to find a replacement, with the argument over how that person will be selected.
Mr Corbyn as the party's UK leader and Scottish Labour leader Richard Leonard won one-member-one-vote elections (OMOV), but last November Labour's Welsh executive meeting decided to retain the party's electoral college.
The college divides the party into three groups - politicians, members and unions - and gives equal weight to the vote of each of those three groups.
A previous version of an electoral college proved controversial in 1999, when Rhodri Morgan was the preferred choice of party members for Welsh Labour leader, but Alun Michael was elected by virtue of majority support from MPs and trade unions.
Finance Secretary Mark Drakeford has previously spoken out in favour of OMOV.
BBC Wales understands Economy Secretary Ken Skates, Energy Secretary Lesley Griffiths, Labour's chief whip Julie James and Local Government Secretary Alun Davies agree with him.
It means that a majority of the eight Labour cabinet members are known to support one-member-one-vote.
The decision to keep the electoral college system has angered some members who think a final decision should be made at the party's conference.
It also came as a surprise to senior Labour figures, as most constituency Labour-backed party groups that responded to a consultation on the matter called for OMOV.
Supporters of OMOV want to force a vote at conference that will re-open the issue and potentially reverse the executive's decision.
The source close to the first minister said party rules stated the issue could not return to conference until 2019.
Mr Jones has said the college "has served us very well".
For the first time, Welsh Labour will this year elect a deputy leader - a post that must go to a woman.
A Welsh Labour spokeswoman said party conference had voted in 2017 to task the Welsh Executive Committee (WEC) - which took the decision to stick with the college - to set out the procedural arrangements for leadership elections.
"Before taking a decision, the WEC held a four-month consultation process with trade unions, affiliate organisations, and constituency Labour parties (CLP)," said the spokeswoman.
"The WEC itself is representative of the whole Welsh Labour family. It is made up of elected representatives of CLPs, trade unions and other affiliates, and elected politicians such as councillors, MPs, and AMs."