UKIP: Nigel Farage 'rewriting history' over Hamilton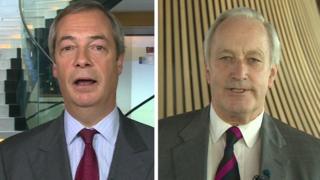 Former UKIP leader Nigel Farage has been accused of trying to "rewrite history" by calling UKIP Wales leader Neil Hamilton "political death".
It came as they disagreed over Henry Bolton's refusal to quit as UKIP leader after a no-confidence vote by the party's national executive committee.
Mr Farage denounced Mr Hamilton as a "disgraced" former Tory MP able to "worm his way into the NEC" in 2011.
A UKIP Wales spokesman said it was Mr Farage's idea he should join the party.
Mr Bolton is under pressure over questions relating to his private life but has vowed to stay on as UKIP leader and reform the party's structure.
Mr Hamilton has called for Mr Bolton to resign, saying he had made himself look "ludicrous", while several members of UKIP's frontbench team have quit in protest.
Mr Farage told listeners to his LBC radio show on Tuesday he was "very pleased" Mr Bolton was pushing for changes and highlighted Mr Hamilton's rise through the party as an example of why the national executive committee (NEC) needed overhauling.
"In 2015 and 2016 wanted to call an Extraordinary General Meeting to change UKIP's constitution to take power away from a very small group of people, elected virtually at random, who are not qualified to make big political decisions," Mr Farage said.
"I saw things such as the disgraced former Tory MP Neil Hamilton worm his way into the NEC and get put at the top of the list in Wales. He's now in the Welsh Assembly.
"I felt that was the wrong thing to do. Neil Hamilton's great fun to be with socially but I think actually political death. And now he leads UKIP in the Welsh Assembly having the lowest approval ratings of any party leader anywhere in the world, I think, in history.
"That's what an NEC does."
A spokesman for UKIP Wales said: "Nigel Farage's attack on Neil Hamilton is a blatant attempt to rewrite history.
"Nigel invited Neil into the party in 2002, when he asked him and his wife, Christine to stand as candidates in the 2004 European Election.
"They both declined, but agreed to join the party.
"Nigel Farage signed Neil's nomination papers for the National Executive Committee in 2011, and publicly backed him.
"Neil went on to top the poll, receiving 3,588 votes out of the 5,863 ballot papers issued. 61.2% of the members chose to vote for Neil - which is the biggest vote ever received in any UKIP NEC election.
"What problem does Mr Farage have with democracy?"
At the time of Mr Hamilton's election to UKIP's NEC in 2011, Mr Farage said his "experience and wisdom" would "contribute significantly to UKIP at a time when the party is seeing increased membership and support".