UKIP AMs make Mandy Jones official complaint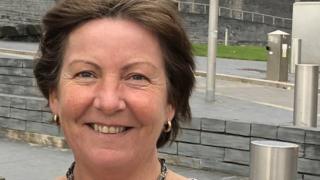 Members of the assembly UKIP group have accused new AM Mandy Jones of bringing the party into disrepute.
Sources say that a complaint has been filed with party HQ by the party's five AMs, accusing her of campaigning to undermine them.
Ms Jones replaced former UKIP Wales leader Nathan Gill at Christmas but was later told she could not be in the party group amid a row about her staff.
UKIP Wales declined to comment. Ms Jones said it was just another attack.
Despite the decision to reject Mandy Jones the AM, who says she is a supporter of former UKIP leader Nigel Farage, remains a member of the party.
The UKIP group rejected Ms Jones as a member after AMs told her that they would not accept her employing Nathan Gill's former staff.
It had been claimed that the new North Wales AM had chosen to employ people who were members of other parties, or had recently campaigned for other parties, or both, and that some had been abusive to other UKIP AMs.
The decision left Ms Jones sitting as an independent, like her predecessor Mr Gill had, although Ms Jones has since said she does not want to return to the UKIP group.
The complaint, made by UKIP Wales leader Mr Hamilton on behalf of the group, argues that Ms Jones started a campaign calculated to undermine UKIP in the assembly when she arrived in Cardiff Bay.
It repeats objections the group has with Ms Jones' choices of staff, saying their employment was "unworkable".
The AMs claim Ms Jones also brought the party into disrepute when she called the UKIP group "toxic" and referred to the group as a "mob".
They also raise, as a disciplinary complaint, Ms Jones' signature on correspondence that called on Gareth Bennett to be deselected from the regional list for South Wales Central for the last assembly election.
Ms Jones had been one of a number of signatories after Mr Bennett linked litter problems in Cardiff to immigration. He survived, and went on to be elected as a regional AM.
The North Wales AM said in response: " I was shocked to see the claims against me. I have done nothing but work in the interest of my region North Wales and party since being elected to the Welsh Assembly.
"I feel this is just yet another attack on me and my office because I would not be dictated to by Neil Hamilton.
"Until the party makes a decision I will not be commenting any further."
Ms Jones told BBC Wales earlier in January that her staff were not involved with other political parties "now".
A UKIP Wales spokesman said: "UKIP Wales makes no comment on internal disciplinary matters".