Opposition AMs to force Carl Sargeant leak inquiry vote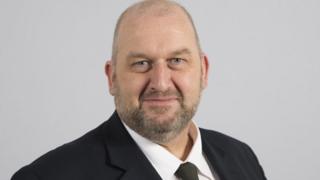 Opposition parties will force a vote next week calling for the publication of a Welsh Government report into whether the sacking of a minister, who died days later, was leaked.
The inquiry found "no evidence of prior unauthorised sharing of information".
It was one of three inquiries ordered by the Welsh Government following the death of Alyn and Deeside AM Carl Sargeant.
He is thought to have taken his own life.
The inquiry was conducted by the Welsh Government Permanent Secretary Shan Morgan and examined whether information about the cabinet reshuffle, where Mr Sargeant lost his job following allegations about his personal conduct, was leaked.
The probe's findings prompted the Welsh Conservatives to demanded to know if the First Minister had in fact authorised the leaking of information.
The Conservatives and Plaid Cymru have now tabled a joint motion in the assembly calling on the Welsh Government's permanent secretary to publish the report "with appropriate redactions".
Votes on a motion tabled by the opposition are not binding.
There were described as "meaningless" by a Welsh Government source last month.
Analysis by Aled ap Dafydd, BBC Wales political correspondent
There are Labour AMs who have concerns about the findings of the leak inquiry and the way the first minister has handled this affair.
Carwyn Jones has said any release of details relating to the report would compromise the identity of those who made allegations about Carl Sargeant.
Even with AMs away for half term there have been more questions asked about those at the top of government.
From the use of a special advisers email account to the First Minister's mobile.
While the vote next week will again put Carwyn Jones under the spotlight it is unlikely to be supported by Labour AMs who are reluctant to support the opposition, even if some would like to see the report published.
A Welsh Conservative source said it and other opposition parties "have been highly critical of the manner in which the first minister and the Welsh Government have sought to block publication of the leak inquiry report.
"From the outset we have called for a redacted report, protecting the identity of individuals who have given evidence, where this has been requested."
The source added that "we hope our motion next week will secure the support of AMs of all stripes across the chamber who want to ensure our democracy in Wales remains one that is open and transparent".