New guidelines for Welsh ministers on personal email accounts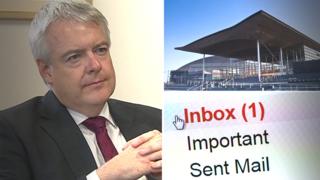 New guidelines will be issued to Welsh ministers over the use of personal email accounts.
In a letter to Welsh Conservative leader Andrew RT Davies, the first minister said two cabinet secretaries used personal email addresses "on a few occasions".
Carywn Jones said the majority of the cabinet does not use personal accounts.
Mr Jones has previously confirmed he had "occasionally" used a personal account for Welsh Government business.
The Conservatives say Mr Jones' personal emails "could hold crucial evidence" relating to the investigations launched since the death of Carl Sargeant.
In the letter, Mr Jones said: "I have repeatedly confirmed to you and others that all relevant material has and will be made available to the various inquiries.
"I can confirm that the majority of Cabinet Secretaries do not use personal e-mail addresses. Two have done so on a few occasions for very routine matters.
"Having reviewed this I have asked the Head of Cabinet Division to provide clear guidelines for the Cabinet and Ministers on email accounts. This will be done as soon as possible"