Avian flu found in wild bird in Barry, Vale of Glamorgan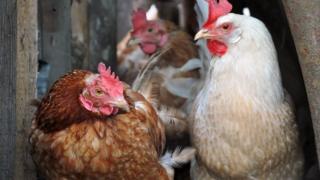 Avian flu has been found in a wild bird found dead in the Vale of Glamorgan.
The infected buzzard was found in Barry and had been submitted for testing as part of wild bird surveillance.
A prevention zone covering the whole of Wales has been in place since 25 January after cases in Dorset.
Owners of poultry and other captive birds had already been told to keep them out of contact with wild birds, and the Welsh Government said no additional measures were needed.
Rural Affairs Secretary Lesley Griffiths said: "This finding is not unexpected at this time of year and there is a constant risk of the disease at this time."
She added that the all-Wales prevention zone remained in place and that "the existing enhanced biosecurity requirements are still considered to be proportionate following this finding".
Dr Gavin Watkins, senior veterinary officer for Wales, said: "This is the first finding this year in Wales and reminds us all of the risk of avian influenza infection."
He said bird keepers "must remain vigilant for signs of disease" and stressed the importance of high levels of biosecurity.
"The main source of infection to captive birds is wild waterfowl, and biosecurity measures must address both direct and indirect spread of infection to areas where domestic birds are kept," he said.
"Birds of prey such as buzzards are probably infected by eating affected waterfowl and are unlikely to play a role in transmission."
Dr Watkins added the movement of poultry should be minimised, and clothing and equipment should always be cleansed and disinfected before and after their use.