Single market needed for workers rights, Plaid Cymru say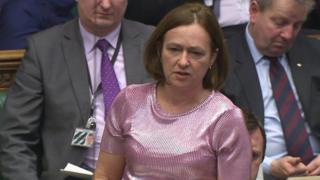 Britain needs to remain in the single market to maintain workers rights, a Plaid Cymru MP has claimed.
MPs from the party, with colleagues from the Greens, the Liberal Democrats and the SNP met TUC general secretary Frances O'Grady on Tuesday.
Liz Saville Roberts said rights over holiday time, sick pay and maternity leave were "up for grabs".
A UK government spokesman said it has committed not to roll back workers' rights.
Brexiteer AM Mandy Jones said the UK's set of workers rights were already to a higher standard than most of the EU.
Some of the UK's employment law derives from the EU - but the UK had regulations in place on holiday pay prior to its EU membership.
The UK government wants to leave the single market and the customs union.
The Plaid MP said: "What we know really from Wales is that people want good jobs, they want stable jobs, they want them close to home.
"They want their children to be able to have homes and to have families. So we need to be able to make sure that the jobs are here and membership not just of the customs union but of the single market because of workers' rights.
"We're talking about holidays, about sick pay, about maternity leave... those are all up for grabs now".
She said Labour had been invited to the cross-party "summits" on Brexit but have chosen not to take part.
Ms O'Grady said some Conservative MPs wanted to use Brexit to "get-rid" of workers' rights that should instead be protected in any deal with the EU.
She said: "The prime minister has promised that workers' rights will be protected but of course many members of her cabinet and in her ranks say quite the opposite.
"We saw that recent attack in some of the Sunday papers on the working time directive that protects millions of workers in providing minimum standards on holidays, rest breaks and protection for night workers."
Mandy Jones, who is a member of UKIP but sits as an independent AM, said all existing EU legislation will be copied across into domestic UK law on the day after Brexit under current plans.
"It also important to remember UK workers' rights are already to a higher standard than most of the EU thanks to the UK parliament," she said.
A UK government spokesman said: "We have firmly committed not to roll back workers' rights, and the government has shown its commitment to extending those rights when this is in the UK's interests.
"This will continue to be the case as we leave the European Union."