No place for inappropriate behaviour in Senedd , says senior AM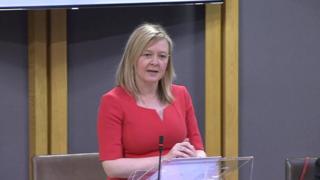 A new assembly dignity and respect policy will make it "explicitly clear" inappropriate behaviour will not be tolerated, a senior AM has said.
Standards Committee chair Jane Bryant's comments in the Senedd follow claims of sexual harassment in both Cardiff Bay and Westminster.
She said AMs must provide clear and strong leadership on workplace culture.
Ms Bryant said the new policy aims to give people confidence to come forward with harassment concerns.
It will be debated next month.
The committee is also looking at strengthening the sanctions that could be imposed on AMs.
Ms Bryant said work was "well underway and a dignity and respect policy is due to be laid before the assembly next month".
"We believe the assembly must set an example and provide clear and strong leadership on the type of workplace culture we would like to see within Wales," she said.
"We are considering existing procedures to make sure they are appropriate and clear.
"Individuals must feel confident about coming forward with any concerns regarding inappropriate behaviour.
"The new dignity and respect policy will help make it explicitly clear that inappropriate behaviour has no place in this assembly."
Ms Bryant said she had asked her own staff if they knew how to make a complaint against her.
"They told me the colour of the leaflet they had on their induction day but they weren't able to put their hands on it," she said.
Standards Committee member Paul Davies said it was clear the assembly had to change the way it dealt with complaints.
"While we look at the work of other parliaments, it's crucial that we develop a system that's bespoke to the assembly and responds to its needs rather than a carbon copy of actions that are taken from other legislatures."
Plaid Cymru's Llyr Gruffydd questioned whether it was necessary to have a separate code of conduct for AMs and a ministerial code of conduct.
He said the situation was not clear.
"One could approach the standards commissioner and he might explain that you have to take your complaint to the office of the first minister.
"I have every confidence that the commissioner's office would do that in an appropriate and sensitive way but it's another hoop that that individual has to jump through".
UKIP's Gareth Bennett believed it was important that political party procedures and assembly policies could "dovetail" with each and welcomed the fact that the standards commissioner was working with the political parties on this.
Ms Bryant said assembly Standards Commissioner Sir Roderick Evans QC was an independent person who can provide advice and assistance on any matters of principle relating to AMs' conduct.
She said that he would be in the assembly next Tuesday should anyone wish to speak to him about any concerns.