Expelled Plaid member Neil McEvoy founds new Plaid group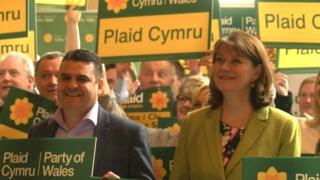 An AM is launching a new campaign group within Plaid Cymru, five days after he was expelled from the party.
Neil McEvoy's party membership was revoked on Monday after a hearing. He is appealing against the decision.
Mr McEvoy is barred from this weekend's Plaid spring conference and the group will launch on the event's fringes.
Before the launch, he said Plaid had sometimes acted more like a "pressure group". Plaid said it would be better if a party member spoke for the group.
Mr McEvoy's membership was revoked for 18 months following a party investigation into his conduct at the 2017 Plaid Cymru spring conference.
He said the process was "completely flawed from the very beginning".
Also a Cardiff councillor for the ward of Fairwater, Mr McEvoy has been an independent AM for South Wales Central since being removed from Plaid Cymru's assembly group last September.
He was already in the process of setting up the campaign group when he was expelled from the party.
Ahead of the group's launch, due to take place on the fringes of the conference in Llangollen on Saturday, Mr McEvoy said: "Plaid isn't a pressure group but at times it has acted like one.
"We had the chance to throw Labour out of government, with the vote on the first minister in 2016, but we chose influence instead of government."
Members of the new group will pay a membership fee and cannot be a member of another political party.
The organisers said the group was borne out of "frustration" with the party, and they called for "party democracy and the rule book" to be respected and for "complete separation between lobbying firms and Plaid Cymru".
They said: "Over consecutive Plaid conferences members have met and discussed how best to take Plaid forward and have expressed frustration with the current direction of the assembly group."
The group's organisers also described the party's election results as "disappointing, with the Plaid Cymru group of 10 assembly members the smallest it has ever been".
A Plaid spokeswoman said the party was "open and transparent" and "allows robust debate".
"The focus of our spring conference this weekend will be to share and discuss the innovative ideas that will help us achieve our mission of building a new nation," she said.
"Constructive contributions from the new campaign group will be noted.
"Nevertheless, it would be more appropriate for its spokesperson to be a member of Plaid Cymru."