£9m revamp marks new era for Bridgend town centre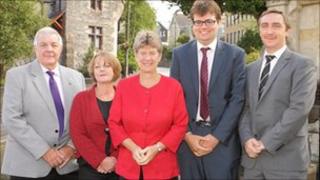 Bridgend town centre is to benefit from a £9m facelift after a funding boost from Europe.
The scheme will see streets get new lighting and furniture and shop fronts upgraded.
The intention is to mark a new era for the town and create employment opportunities in the area.
Minister for regeneration Jocelyn Davies AM said the project would also increase the confidence of potential investors.
The full funding package comprises £3.2m from the European Regional Development Fund, £4.5m from the assembly government and the remainder from Bridgend council, the Heritage Lottery Fund and private sources.
Streets that will be upgraded under the scheme include Court Road, Nolton Street South, Merthyr Mawr Road North, Cheapside, Derwen Road and Cross Street.
Measures to improve the safety of pedestrians, traffic management and links between developments and the heart of the town centre are also planned.
'Preserving and enhancing'
The project will build on previous regeneration works in the town centre.
Councillor David Sage, deputy leader of Bridgend Council, said: "We want to create an attractive, thriving town centre environment which preserves the historic past while building a modern future.
"Much of the work will be spent on the physical look of the town centre, preserving and enhancing historic and key buildings and upgrading properties to provide positive and attractive floorspace."