Maskreys furniture firm to close after 112 years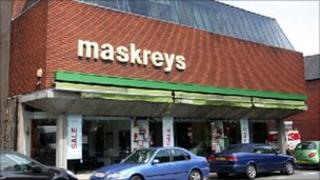 Furniture chain Maskreys is to close after 112 years of trading.
Chairman Robert Maskrey is retiring and the family firm's three stores in Cardiff, Newport and Bristol will shut at the end of November.
The move will lead to a phased redundancy of the firm's 87 staff, including 75 based in Wales.
The Cardiff-based distribution centre will also close but the company is to operate until the end of the financial year to honour its commitments.
Mr Maskrey, 70, said he had opted for an "orderly closure" of the business and would do his utmost to help affected staff.
He said: "On balance, I've decided that an orderly closure - rather than a protracted period of uncertainty - is in the best interests of everyone involved."
He praised his "loyal and talented" workforce and said he was in discussions to relocate as many of them with other retailers as he could.
Staff will be able to benefit from a loyalty bonus scheme, which will be added to their redundancy entitlements.
He added: "Customers, meanwhile, can rest assured that each and every order placed up and until the end of November, when the stores shut, will be fitted, serviced and delivered with the same high standards that they have come to expect from us over the years."
Maskreys has set aside four months after the shops close to fulfil all outstanding orders ahead of the firm being formally wound down in March 2011.
The family firm, with a history spanning three generations,was founded in 1898 by John Maskrey, Robert Maskrey's grandfather, who died in 1925.
Mr Maskrey added: "We are categorically not going into liquidation.
"While trading has certainly been tough during the recession, as it has been with every other independent furniture retailer in the country, this is not the reason for Maskreys shutting."
Plaid Cymru AM Leanne Wood, said: "This is really desperately sad news for the 87 staff at Maskreys who will now lose their jobs.
"Any job losses during difficult economic times are a big blow."