Ex-Army chief predicts St Athan defence base reduction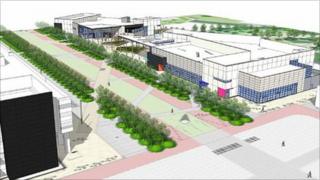 A former Army chief says there is "no plan B" as speculation continues over proposals for a £14bn defence training academy in the Vale of Glamorgan.
The St Athan scheme could be under threat as the UK government carries out defence and spending reviews.
General Sir Richard Dannatt, head of the Army from 2006-9, said change was needed because existing forces' training facilities were rundown.
Gen Dannatt predicted the base would go ahead, but on a smaller scale.
Earlier this month Welsh Secretary Cheryl Gillan said she remained supportive of the St Athan plan, but was unable to say if it would proceed while examinations of spending proposals continued.
Welsh MPs from across the political parties have campaigned for the academy to proceed.
Alun Cairns, Conservative MP for the Vale of Glamorgan, said it should go ahead "because it is the best military thing to do".
'Very tricky'
The project was originally envisaged as centralising training for the three armed forces, and funded by the Ministry of Defence (MoD) as a private finance initiative (PFI).
General Dannatt told BBC Radio Wales' Sunday Supplement programme: "This is a very tricky one.
"This has been the policy for 10 years now: to have a single big defence academy and St Athan is the site that has been selected.
"There really is no plan B because the existing training facilities which the three services are using are very rundown and there has got to be a change."
Gen Dannatt, who has just published his autobiography, Leading from the Front, added: "So I think this PFI-based solution is the one which will go ahead.
"Maybe it won't be as large, maybe it won't be quite as ambitious as previously.
"I think it's a very difficult issue and one of the key ones on the non-equipment side that the MoD is going to have to grapple with."