New £5m University of Glamorgan students' union opens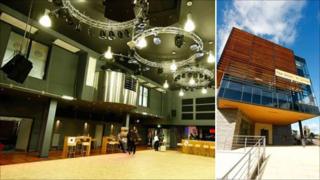 A new £5m students union building has been opened at the University of Glamorgan.
The building at Treforest includes music venues, bars, and conference facilities.
There is also a hairdressing and beauty salon and catering outlets.
Vice-chancellor Julie Lydon said the building was a "real milestone" in investment in student facilities. It will also be open to the community for meetings, concerts and social events.
The students' union was involved in the design of the building, which was officially opened by athlete Darren Campbell on Monday.
Helen Wakeford, president of University of Glamorgan students' union, added: "The reaction of the students has been overwhelmingly positive. It will be well used and much appreciated."