Cardiff waste incinerator decision delayed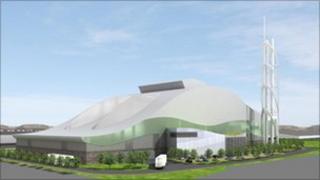 A decision on whether to grant a permit to a planned waste to energy incinerator in Cardiff has been delayed by the Environment Agency.
The Viridor plant already has a draft permit, but the agency has said it wants to assess the original advice it was given on the local health impact.
Campaigners against the £150m site in Splott complain that the agency based its orginal advice on partial evidence.
The decision will now come in late October.
A spokesperson for Environment Agency Wales said: "We have delayed the announcement of our decision on the permit for the Viridor application until the end of October.
"This is to give the local health board an opportunity to confirm that their original advice on the potential health impacts of incinerators is still valid.
"During our extensive consultation, we received many comments from people concerned about the potential health impact of the plant.
"We will only issue a permit to any site if we are satisfied that it will not damage the health of local people or the environment."
Cardiff Council has already given planning permission for the site, although campaigners have complained that the authority wrote to just 17 households, many of them businesses close to the plant's proposed locaton.
Edmund Schluessel, a spokesperson for Cardiff Stop the Incinerator, told The Guardian: "The delay on the decision on the incinerator shows that we are asking to right questions. We are finding the weaknesses in Viridor's application and tearing those holes wide open.
"It's a testament to the way this campaign is bringing together people from across Cardiff and shows the power of a mass campaign to challenge big business interests can make a real change in the community."