New Severn inshore lifeboat launches at Beachley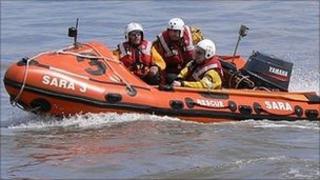 A new inshore lifeboat has been launched covering the Severn Estuary.
It is based at Beachley Lifeboat and Rescue Station beneath the original Severn Bridge on land between the River Severn and Wye.
It covers the Avonmouth, Cardiff, Chepstow, Gloucester and Newport areas.
Beachley was the first purpose-built lifeboat station run by the Severn Area Rescue Association (SARA), using the old car ferry slipway for launches.
A public ceremony saw the boat named the Swift and Bold.
It is the motto of 1st Battalion The Rifles based nearby, and whose staff helped to raise some of the £32,000 needed to buy the boat along with other public donations.
'Fierce tides'
SARA is the lifeboat and rescue organisation for the River Severn from Bristol and Cardiff with four rescue stations at Beachley, and others in Gloucestershire and Worcestershire.
Rescuers work with the coastguard, police, fire and ambulance services as well as RAF search and rescue teams.
Beachley lifeboat station chair Mervyn Fleming said the new boat - replacing a 15-year-old craft - has modifications due to the "unique conditions" of the Severn with its rocks, mud, "fierce tides and high waves".
It can also be carried safely beneath a helicopter to deliver rescue crews to the scene of an incident.
"This new boat will ensure SARA's estuarine and flood rescue capability for many years to come," said Mr Fleming.