Murder arrest as man dies after Newport hotel fire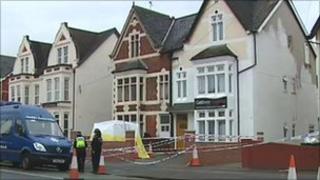 A 27-year-old man originally held on suspicion of assault has now been arrested for murder after the death of a man found with burns near a hotel.
Gwent Police believe the dead man was assaulted before he was discovered in the forecourt of the Gateway Express in Newport on Wednesday night.
He died on Saturday morning. He was in his 30s and from the Newport area.
Police, who had issued pictures of his tattoos to identify him, now know who he is, but have not released his name.
He died at Morriston Hospital in Swansea.
The 27-year-old is being questioned in custody.
The burned man was found lying in the forecourt area of the hotel on Chepstow Road after officers were called to the fire at about 2210 GMT on Wednesday.
Police believe he may have been sleeping or unconscious, and while they said he had been assaulted, there was no evidence of gunshots or stab wounds.
Officers are carrying out inquiries locally, and trying to establish what caused the fire, and whether it was started deliberately.
Police are also trying to trace the dead man's next of kin.
Anyone who was in the Chepstow Road area of Newport between 1900 and 2215 GMT on Wednesday has been asked to call Gwent Police on 101 or the independent charity Crimestoppers anonymously on 0800 555111.