Celtic Energy and M&A Solicitors at centre of SFO probe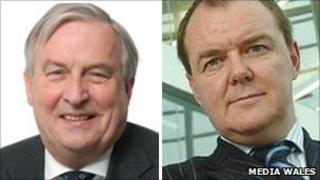 Open cast mining specialists Celtic Energy say two of its directors are being investigated by the Serious Fraud Office about the sale of coal mines.
It follows a decision by Cardiff-based commercial law firm, M&A Solicitors, to suspend two of its partners in connection with the same investigation.
On Wednesday, five people were arrested in connection with the sale of four mining sites in south Wales.
Eight properties were searched, including five in south Wales.
The Serious Fraud Office said it was looking into allegations of conspiracy to defraud in relation to the sale of four mining sites.
Caerphilly-based Celtic Energy produces 1m tonne of coal per year from its sites in south Wales.
A company spokesperson said: "We can confirm that two of our directors are under investigation regarding the sale of four coal mines in south Wales.
"Whilst this investigation is taking place we are unable to comment any further, only to say that this will not affect the day to day running of Celtic Energy and therefore it is business as usual."
M&A Solicitors said two of its partners Alan Whiteley and Eric Evans had been suspended.
The firm said the action arose from a single transaction with a client which it then referred to the authorities.
Based near the Welsh assembly in Cardiff Bay, M&A Solicitors has 12 partners and 60 staff working for a range of private and public sector clients.
In a statement published on the company's website, it says it "acted diligently by referring matters to the authorities and the Serious Fraud Office's investigation follows on from our referral.
"We are co-operating with the Serious Fraud Office's investigation and due to the ongoing nature of that investigation we are unable to provide further information at this time.
"We wish to reassure our clients that this is an isolated incident.
"We are committed to providing our clients with the best service possible, and we are working with clients to ensure that business will continue as normal."
Mr Whiteley serves as a non-executive director on the board of Championship football club Cardiff City.
A spokesman said: "We are aware that a director of Cardiff City Football Club is under investigation into a matter that is totally unrelated to the club.
"While the investigation is ongoing it would be inappropriate to make any further comment."