Pancreatic cancer treament hope in Cardiff uni study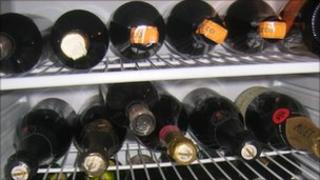 New treatments to reduce the chances of getting pancreatic cancer could result from a discovery at Cardiff University.
A study has found a protein that provides protection against the effects of alcohol in the pancreas.
Pancreatic cancer is the fifth most common cause of death through cancer, with only 3% of patients surviving beyond five years.
Study leader Prof Ole Petersen said there was a strong correlation between drinking and incidence of pancreatitis.
"We hope that our new findings will eventually lead to the development of drugs to combat this," he said.
The protein, calmodulin, is involved in the basic processes that take place in all cells.
The study findings reveal that when calmodulin is missing from cells in the pancreas, alcohol has a much greater toxic effect.
'New and unexpected'
This can lead to inflammation called pancreatitis, which, in the long-term, significantly increases the risk of developing pancreatic cancer, say the study authors.
Prof Petersen, in the Medical Research Council Group at Cardiff University's School of Biosciences, found that calmodulin protects the pancreatic cells against alcohol's toxic effects when it is activated by another small protein, CALP-3.
"There is still much uncertainty about how alcohol damages cells in the body," said Professor Petersen.
"However, we have found a new and unexpected way that pancreatic cells protect themselves. This is a key step forward."
The study is reported in the journal Proceedings of the National Academy of Sciences (PNAS) and was carried out in collaboration with researchers from the University of Liverpool, the RIKEN Brain Science Institute in Japan and the Japanese Science and Technology Agency.