Freya-Grace Barrett, born at 13 oz, goes home to Deri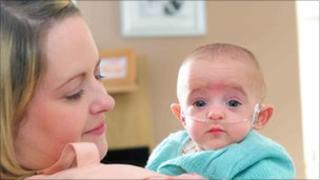 A twin girl born weighing just 13 oz (370 g) has been allowed home after eight months in hospital.
Freya-Grace Barrett survived nine blood transfusions, a plasma transfusion and a heart valve operation. Her twin Mollie, who was 15oz (425g), died.
Freya-Grace now weighs 9lb (4 kg), although she remains on a constant oxygen supply at her home in Deri, Caerphilly.
She is now eight months and her mother Liz said: "We are so proud of her".
She added: "It's just fantastic Freya-Grace is home and putting on weight every day."
Freya-Grace and her twin were born after their mother went into premature labour at 23 weeks. Mollie died two days later.
Mrs Barrett, 29, a customer service advisor from Deri, near Caerphilly, described her reaction when she was told Freya-Grace was alive.
"At first, we were shocked that Freya had survived - she was the smallest of the two girls.
"We thought the doctors had made a mistake - we thought Mollie was going to live.
'Too fragile to touch'
"When I saw Freya she reminded me of cooked chicken. She was so small.
"Her skin was shiny, you could almost see straight through her.
Mrs Barrett and her self-employed builder husband Jeff, 33, took turns keeping a vigil at Freya's side.
"She didn't look like a normal baby should. It was horrible to see her hooked up to all these wires. I wanted to hold her but she was too fragile to to touch," said her mother.
"She's a determined little girl. She's already pulling herself up and arching her back. She's so strong.
"Every milestone that Freya reaches is that little bit happier, I'm just so grateful she's still here."
The couple voiced their gratitude to the doctors and staff at the specialist neo-natal unit at Singleton Hospital, in Swansea, where Freya-Grace spent her first eight months of life.