Sheikh Said Hassan Ismail, Cardiff Muslim leader, dies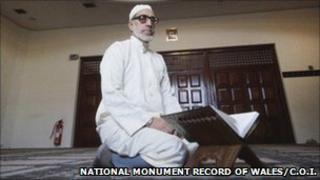 A Cardiff religious leader known for his community work has died aged 81.
Sheikh Said Hassan Ismail founded the South Wales Islamic Centre in Butetown and was an imam at the mosque.
Born to a Welsh mother, he moved to Cardiff as a boy after his father, who was born in Yemen, was killed in service during World War II.
Former First Minister Rhodri Morgan said: "His wise counsel at times of crisis has made him a truly significant figure in the shaping of modern Wales."
Alun Michael, MP for Cardiff South and Penarth, said: "Sheikh Said was a gentleman, a scholar, a man of the community and a towering influence in Cardiff who will be greatly missed by the community as a whole.
"He was enormously respected by my predecessor Jim Callaghan, who first introduced us, and throughout my time in Parliament I knew him as a good and honest friend who has always been willing to speak truth to power. He said difficult things at difficult times while never losing the affection and authority which everyone felt for him. He will be sadly missed."
Daoud Salaman, chairman of the South Wales Islamic Centre, said: "He was a great man who didn't think nothing of himself, he was modest, he had time for everyone. If he could help people he would."
"He got on with with everybody, no matter what faith they were, whether Muslims, Christians or Jews. He respected everyone."
Kamal Al-Idrisy, office manager at Al-Manar mosque, said: "He was very welcoming and religious but he understood the needs of the youth."
Speaking to the BBC in 2010, Sheikh Said talked about the relationship between different communities in Cardiff: "I go to town like this but I still feel Welsh. I am Welsh."
His funeral will be held at 1400 GMT on Friday 25 March at the South Wales Islamic Centre in Cardiff.