Merthyr Tydfil old town hall to be made arts centre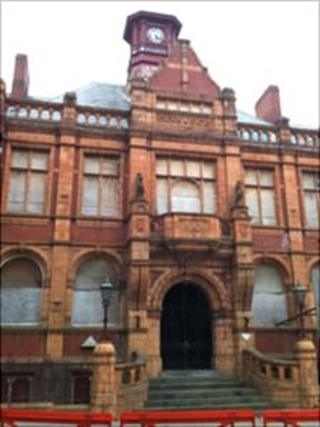 Merthyr Tydfil's old town hall is to become an arts centre with £4m funding from the Welsh assembly government and hopes of heritage lottery funding.
The 113-year-old building will be restored and renovated, emerging as an arts and performance venue.
Merthyr council will contribute £150,000 and the historic environment service Cadw, £100,000.
The project is also through to the next round of bidding for £2m of heritage lottery funding.
The centre is planned to open in 2013.
It will be run as a partnership between Merthyr Tydfil Housing Association (MTHA) and Chapter arts centre in Cardiff, with Merthyr Tydfil College and the University of Glamorgan offering teaching.
The renovated building will house a cafe, gallery space, recording and dance studios, computer room, workshops and two performance spaces.
The town hall is a Grade II-listed building but was designated 'at risk' after having been vacant for 11 years.
Karen Dusgate, chief executive of MTHA, said the building's state of disrepair reflected wider local problems.
"The building is in the centre of town, and it used to be a central part of community life. Now the building is decaying, neglected and ignored.
"How it looks is synonymous with how people feel Merthyr has been treated."
But it is hoped that the renovation will help to improve the town's fortunes, despite the current economic climate.
"Obviously everyone has been affected by the financial crisis but we have succeeded in getting funding because ours' is a partnership approach. We'll create employment and training during the construction stage, and work with small and medium sized businesses when we open."
Sophie Teague of Austin-Smith:Lord, the architects for the project, said the renovated old town hall will an important role to play in Merthyr's future.
"Merthyr has been affected by the recession, people are struggling. But we want this project to help generate positive community spirit and a positive attitude, and create jobs and education opportunities.
"We want to cherish the history of the building and make it part of the community again. We want to bring the building back to the heart of the town centre, both emotionally and physically."
Plans for the town hall were originally drawn up in 1865, but it took 35 years for work to start.
The building was eventually completed in 1898, but there was no official opening due to a national miners' strike.
It was not always a popular building. When playwright George Bernard Shaw visited Merthyr in 1910 he described it as 'a hideous mess'.
However, its importance to Merthyr was emphasised in 1966, when it became the administrative centre for the Aberfan disaster appeal, and later the Aberfan inquiry.
After the opening of Merthyr civic centre, it was turned into a nightclub in 1993 despite local protests.
However, it has stood empty since 2000, when the nightclub's licence was refused.