Blaenau Gwent chief Robin Morrison leaves to cut costs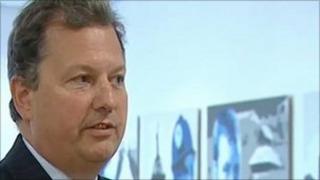 Blaenau Gwent chief executive is to leave his job as part of an ongoing review to cut senior management costs.
Robin Morrison will leave the authority at the end of March after a council meeting to "mutually terminate his contract".
His departure means a reduction in the corporate management team from to four, and a possible saving of £315,000 over five years.
Resources director David Waggett has been appointed interim chief executive.
The authority has an agreed policy where consideration can be given to the mutual termination of a contract of employment "in the interests of the efficiency of the service".
Mr Morrison will have immediate access to his accrued pension benefits, but no redundancy or pension enhancements.
The council said that added to savings already made through the ongoing review of senior management, close to £1.5m savings will be made over the next five years.
Council leader Coun Des Hillman said they were facing "unprecedented budget cuts".
"At a time when we are working hard to balance the books... we continue to review the structure of senior management to identify and make savings," he said.
He added that Mr Morrison had "served this authority well during his time here and we wish him all the very best for the future".
Mr Waggett will remain in the chief executive's job until a review following the 2012 local council elections.