Aamir Siddiqi murder suspect Crimewatch re-appeal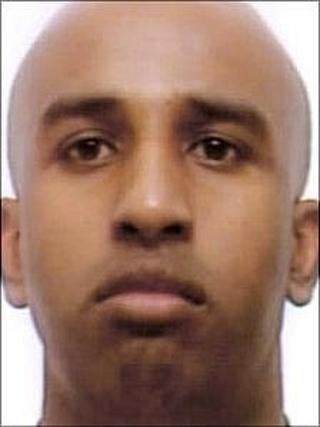 A man wanted in connection with the stabbing to death of a 17-year-old youth in Cardiff is to feature again in the BBC Crimewatch programme.
Police are offering a reward of up to £10,000 to find Mohammed Ali Ege, 32, from Riverside, Cardiff, over the killing of Aamir Siddiqi in April 2010.
Officers will urge a person who sent in an email about Mr Ege to get in touch.
Two men are remanded in custody charged with the murder of the teenager and the attempted murder of his parents.
Aamir died of stab injuries after he was attacked at his family home in Roath at about 1340 BST on 11 April 2010.
His parents Iqbal, 68, and Parveen, 55, were also seriously injured.
Mr Ege last featured in the BBC programme in September last year.
Immediately
He has still not been found but police have said they recently received through the Crimewatch website with "some interesting information".
Mr Ege is described as is black, 5ft 10in (1.78m), slim, with black shaved or cropped hair, brown eyes. Police say he is of middle eastern heritage and has a Welsh accent.
He is known to have contacts across Cardiff, Pontypridd, and Barry.
Police say he should not approached directly. People should call police immediately if they have any information about where he is.
People should contact the major crime incident room at Cardiff central police station on 029 2052 7303 or Crimestoppers on 0800 555 111.
For immediate sightings the public are asked to dial 999.
Two men, aged 36 and 37, have been remanded in custody charged with the murder of Aamir Siddiqi and the attempted murder of his parents.