Swansea 2nd in UK business growth in Royal Mail survey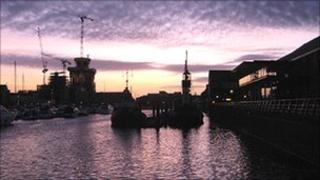 Swansea has been named the second best location in the UK for business growth, after a Royal Mail survey.
It shows that Swansea has seen a 1.84% rise in the number of companies, just behind Lincoln, with a 2.08% increase.
Newport (9th) and Wrexham (81st) were also ranked in the top 100.
The survey looked at how many businesses have moved location, recently started up or opened a new site.
Out of 9,995 Swansea businesses surveyed, the Royal Mail found that 181 were new companies and three more businesses had moved into the city than had moved out.
The survey, which forms part of a marketing database, did not include the number of businesses which closed.
Prof David Blackaby, of Swansea University School of Business and Economics, gave the findings a cautious welcome.
"There have been suggestions that Swansea and Newport are the cities most at risk from the economic crisis because of their high levels of public sector employment," said Prof Blackaby.
"With the economy on a knife edge, these survey results could be good news if it means that there is a growing business sector that can create opportunities in the city."
Swansea council said it felt the figures reflected recent activity in the area.
"The report mirrors the activity we've seen locally at the Swansea Business Centre, with people interested in setting up their own businesses." said Steve Marshall, Swansea council's business development manager.