Girls rescued as lifeguards train on Porthcawl beach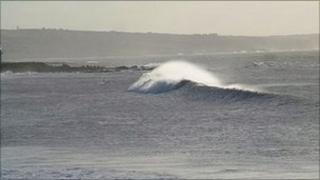 Three young girls had a lucky escape when they got into difficulties in sea off a beach where around 40 volunteer lifeguards were training.
The youngsters - aged between five and eight - were caught in a rip current at Coney Beach, Porthcawl.
Members of the Surf Lifesaving Association of Wales were there on a training weekend.
The association said despite the good weather sea temperatures were still cold and swimmers should take care.
The association's power craft chairman Chris Parry said members spotted the girls were in trouble and quickly went to their aid.
Two were taken to hospital as it was thought they had swallowed water and the other was checked out by paramedics at the scene.
"It was fortunate as we do a start of season boat training weekend and there were 30 to 40 lifeguards on the beach," said Mr Parry.
"Its our concern with Easter coming up and the weather forecast not being too bad people take care, especially on those beaches that are not patrolled.
"If this had happened last weekend then there could well have been a fatality."