Barry Island public drinking warning as ban starts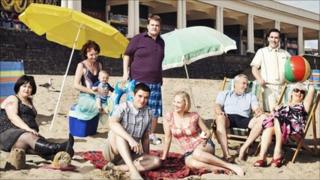 Police enforcement of a ban on public drinking across Barry Island - the setting for TV's Gavin and Stacey - starts in time for the Easter holidays.
Officers say they confiscated plenty of alcohol across Barry Island in the first few days, and warn of £50 fines or Asbos for anyone refusing to comply.
People in the Vale of Glamorgan seaside town can drink in restaurants and pubs but not on the beach or streets.
Councillor Nic Hodges said it aimed to make the area more family-friendly.
He also said it was supported by most residents in the resort, which gained wider fame as one of the settings for the hit BBC comedy Gavin and Stacey.
There are a number of zones within Barry, but Mr Hodges said police had been asked to start enforcing the one covering the Barry Island area earlier this year.
"We've got a fantastic beach that's blue flag and we have no need for people to come down and get tanked up," he said.
"If people want to have a drink that's fine, as there are quite a few good pubs on the island but if people just want to come and sip ale for the day they can go somewhere else."
'Seized and destroyed'
He said police checked visitors arriving by train and car and if they were found to have slabs of cans they were confiscated.
"Some people see it as heavy-handed: I don't," he added.
"It has been a problem on the beach and we are trying to reinforce Barry Island as a family resort."
Police officers say Operation Oasis takes a zero tolerance approach to anyone causing problems or spoiling the area for families.
Sgt Matthew Rowlands said anyone failing to comply with a request given by police could be issued with a £50 fixed penalty notice or face an Anti-social behaviour order (Asbo).
"Because Barry Island is a designated alcohol exclusion zone and a family resort, officers have been working in partnership with British Transport Police to confiscate alcohol from anyone found to be in possession of it," he added.
"Day one of the operation saw a substantial amount of alcohol seized and destroyed by police."
He said high visibility patrols would continue throughout the coming months and heightened during holiday periods and weekends.