Public meeting over Godre'r Coed school plan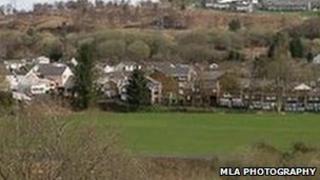 A public meeting is being staged over controversial plans to build a primary school on playing fields near Merthyr Tydfil.
Merthyr Tydfil council wants to rebuild Ysgol y Graig on one of two shortlisted sites, with Godre'r Coed field, in Cefn Coed, being one of them.
Campaigners say Godre'r Coed is used by rugby and cricket teams as well as children and dog owners.
The council said a decision about a preferred site had not been made.
Councillors are expected to vote on the proposal on 27 April, but the local authority said people's views would be considered.
Campaigners are planning a protest march the same day from the field to the council offices.
They have also collected more than 2,400 signatures in a petition against the proposal.
Yvette Morgan, chair of the Save the Playing Fields campaign, will speak at the public meeting at Cefn Coed Rugby Club at 1930 BST.
She said: "The council has been trying to build on these fields for decades, the most recently being seven years ago when they lost the funding.
"We thought the threat had gone away but a few weeks ago we heard they were having another consultation.
"Everybody in Cefn Coed is really angry because they all use the fields and people have done for more than 100 years.
"It's predominantly used as a pitch for mini-rugby tournaments but everybody walks their dogs there and it would have a disastrous impact because it's where local people of all ages socialise and walk."
The disused former Vaynor and Penderyn High School site is also being considered as a possible location for the school.
Rebuilding Ysgol y Graig is part of the Welsh Assembly's 21st Century Schools programme.
It is designed to help cut surplus school places and improve facilities.
A council spokeswoman said a public consultation had provided "extensive feedback".
"No decision on a preferred site has yet been made, and will not be until the matter is considered at cabinet," she said.
She added that a report would be prepared for the council cabinet later this year in readiness for the announcement of the 21st Century Schools building programme.