Welsh Guardsman Steve Young reveals Antarctic trek aim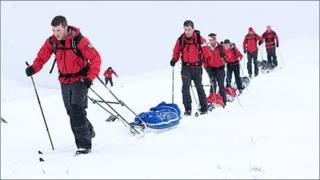 A Welsh Guardsman who was wounded in Afghanistan has said he would love to repeat his trek to the North Pole - or even aim for the South Pole.
Sgt Steve Young, 28, from Tonypandy, Rhondda, and six other servicemen completed the 170-mile trip for the charity, Walking With The Wounded.
He said: "It's such a beautiful place up there. Words can't describe it."
Prince Harry, the charity's patron, spent four days on the Arctic trek.
The prince was the first to congratulate them via satellite phone when they reached their destination after 13 days, becoming the first team of war-wounded amputees to ski to the North Pole unsupported.
Now back at their base camp at Longyearbyen on the Norwegian island of Spitsbergen, Sgt Young said: "Inge, our guide, told us we will catch the polar bug. Now that we're back, I fully understand it.
"Unless you've been there, you won't actually know what it's like, and I would love to go back one day - or maybe south next time, the South Pole."
Cardiff Blues rugby fan Sgt Young hauled a 100kg sled for over 170 miles.
Yet the veteran of tours in Bosnia, Northern Ireland and Iraq was told he would never walk again after suffering a broken back when his vehicle was blown up by roadside bomb in Afghanistan in August 2009.
Sgt Young said he was injured by shockwave from the bomb.
"After that I spent four months in a spinal bed and six weeks in Selly Oak. I had massive muscle deterioration, and spent 14 months in full-time rehab.
"But here I am, the finished product."
The trekkers, who included two with amputated limbs, were the first servicemen with such serious injuries to reach the North Pole unaided.
They had thought it would take them up to four weeks to reach the pole. In the end, they were twice as quick as they had planned.
Sgt Young, who is engaged to Emma York, said his main focus now was getting back to being "fighting fit" ready for his battalion to return to Afghanistan next March.
He said: "My mates are redeploying, and I'd love to be back with my mates."
But, sporting a classic polar trekker's beard, he added: "First of all I'll have to have a haircut, because obviously I'm off back to work and it's a bit long."