Missing Robert Williams feared dead after nine years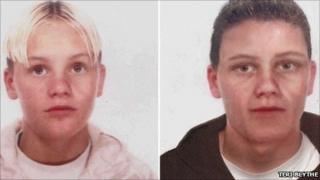 South Wales Police have "concluded" their inquiries into the disappearance of a teenager last seen by his family nine years ago.
Robert Williams from Resolven, Neath, was aged 15 when he went missing in March 2002.
A review of his case has been carried out by police over the last 12 months but no new leads have been found.
One officer said the "most likely outcome" is that Mr Williams "died sometime over the past nine years".
Det Insp Mark Lewis, of the South Wales Police Specialist Crime Investigation Team, said Mr Williams' mother, Cheryl, is "naturally devastated by this news".
He said: "Over the past year we have revisited all potential lines of enquiry, over 100 further witness statements have been taken and we have also carried out extensive proof of life enquiries which have all proved negative.
"In addition we have searched the national fingerprint and DNA databases, checking medical records and contacting a large number of organisations in the hope that Robert may have been linked to them since his disappearance.
'Nightmare'
"As a result of these enquiries there is tragically no evidence that Robert Williams is alive and I have now informed Robert's family that the most likely outcome is that Robert has died sometime over the past nine years."
DI Lewis said Mr Williams' mother is asking for anyone with information about her son's "disappearance and likely death" to come forward.
"Every day since Robert's disappearance has been a struggle and traumatic for Cheryl and her family," he said.
"She is pleading with the public to help provide her with closure and end this nightmare that she has had to endure for over nine years."
The officer explained that while missing person's cases remain open, police have "concluded" the investigation into Mr Williams' disappearance.
However, if "new evidence came to light" then officers "would fully investigate it", he said.
As part of the case review process, police released the "age progression" photograph to depict what Mr Williams may look like today.
Anyone with information is contact South Wales Police on 01792 562 732 or Crimestoppers, anonymously, on 0800 555 111.