Historic Usk courtroom reopens after £200,000 work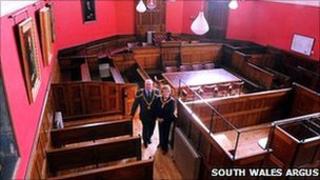 The Victorian court room at Usk Sessions House in Monmouthshire has reopened following £200,000 worth of renovation to the building.
The courtroom will be used by Usk town council as its base and is also licensed for weddings. The first ceremony will be held there on 20 May.
The Sessions House, designed by Thomas Wyatt, opened in 1877 and heard its final case in 1995.
Restoration has taken 12 years after a combination of fund-raising and grants.
It contained two court rooms at either end of the building although Court One burnt down in 1944 and was never rebuilt.
The remaining courtroom became a magistrates court after Newport crown court opened in 1974 and had another 20 years service.
The Sessions House was purchased by Usk Town Council from Monmouthshire council in 1998 and they have spent the past 12 years raising the money to restore the building to its former glory.
Locals raised £100,000 for the work in addition to a £90,000 grant from the National Lottery and £5,000 from Monmouthshire town council.
Other than electrical lighting the courtroom is unchanged from how it would have looked when it opened in 1877.
The flooring and woodwork has been polished and restored and all the seating has been refurbished.
Town Clerk Jenny Mee, who managed the renovation project, said: "The walls of the courtroom were painted cream, we researched how the courtroom would have looked in Victorian times and the walls have now been repainted a beautiful rich shade of red.
"It compliments the portraits of the former Quarter Sessions judges which hang on the walls."
The refurbished court room was officially opened by the High Sheriff of Gwent, Lady Hayman-Joyce and it is thought that it is one of the few truly authentic Victorian court rooms left in the UK.
The reporters bench still bears the names carved into it over the years.
During renovation a signature, T J Preece, was discovered underneath the seating dated 1877, the year the court room opened. Located below the dock is a passageway which led directly to Usk jail.
Some famous cases were heard at the court house in its day including the trial of Viscountess Rhondda, a prominent suffragette arrested in 1910 for placing a letterbomb in one of the town's postboxes.
Jenny Mee says she is pleased to see the results of all the hard work and fundraising.
"It's wonderful that it's been restored. It's looks amazing and it's owned by the people of Usk for the people of Usk to use."