Mohammed Musa murder case starts at Cardiff Crown Court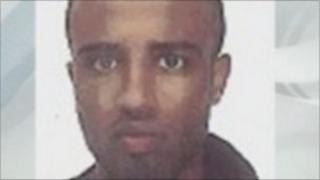 A post office worker was murdered by a friend with a weight-liting bar eight years ago, a jury has heard.
Mohammed Musa, 21, died after he was allegedly hit with the 5ft (1.52m) long pole in a late-night attack in Butetown in the city in 2003.
Cardiff Crown Court heard that Mr Musa's friend Mohamoud Mahad, 28, went on the run and was extradited from Canada last year.
Mr Mahad, of no fixed address, denies murder. The trial continues.
The jury heard Mr Musa was "pole-axed" with the bar by Mohamoud Mahad, a friend of his.
Mr Mahad had been in an "angry and aggressive mood" when he swung the pole towards a group of people in Angelina Street in April 2003.
The jury was told that he "may not have intended" to strike Mr Musa.
Prosecutor Peter Griffiths QC said: "He was armed with a weight-lifting bar, in a violent, combative and aggressive mood struck the victim a massive and fatal blow to the head.
"It was a massive blow and it fractured his skull not just in one place but almost as an egg-shell cracks," he added.
'Dropped like a stone'
The court was told the defendant had become violent after a group of people he had argued with earlier arrived near a flat in the Butetown area, whilst he and his friends were inside.
"Mahad's friends were trying to sort things out verbally outside the flat while the defendant had been aggressive inside," said the prosecutor.
"One man had been retraining him inside but he managed to get away from the flat."
Mr Griffiths said Mr Mahad had picked up the long metal bar "like a baseball bat" and swung it towards the crowd of men.
"The person it connected with was the unsuspecting Mohammed Musa," he said.
"He poleaxed basically the unsuspecting Mr Musa and he dropped like a stone to the floor," he added.
The court heard Mr Mahad went on the run following the attack in 2003, and was extradited from Canada last year after he applied for citizenship.