Aamir Siddiqi Cardiff murder police bail two men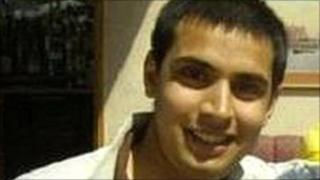 Police investigating the killing of Cardiff teenager Aamir Siddiqi say two men have been bailed pending further inquiries.
The men, aged 36 and 30 and both from Cardiff, were arrested on suspicion of conspiracy to commit murder on Wednesday.
Aamir Siddiqi, 17, was attacked at his family home in Ninian Road, Roath, on 11 April 2010 and died of stab injuries.
His parents were also badly injured.
Detectives renewed their appeal for information on Mohammed Ali Ege, 32, from Riverside, Cardiff, who it said remains wanted on suspicion of conspiracy to commit murder.
He is described as black, of Middle Eastern heritage, 5ft 10in (1.5m) tall, slim, with black shaved or cropped hair, brown eyes and a Welsh accent.
He is known to have contacts locally and throughout the UK.
The public is advised not to approach him directly but to call police immediately if they have any information regarding his whereabouts.
A reward of up to £10,000 is available for any new information leading to any further arrests and subsequent convictions in relation to Aamir's murder.
Anyone with information regarding the whereabouts of Mohammed Ali Ege or another information is asked to contact the Major Crime Incident Room at Cardiff Central Police Station on 02920 527 303 or Crimestoppers anonymously on 0800 555 111.
For immediate sightings of Mohammed Ali Ege please dial 999.