Cardiff council stopped royal wedding karaoke party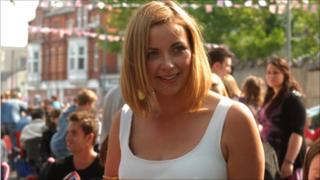 A street party organiser has accused council officers of over-reacting after a noise complaint brought a royal wedding karaoke session - featuring Charlotte Church - to an abrupt end.
The singer had been at a street party in Canton, Cardiff, with her family.
When the party officially ended at 1700 BST, Church joined locals in the nearby Robin Hood pub.
Locals say partying ended when noise officers arrived. Cardiff Council said it was agreed the karaoke should end.
Canton resident Terry Phillips, who helped organise the earlier street party, said "hundreds" of people had gathered outside the pub because word had spread that Church was giving an impromptu performance.
He criticised the council, claiming they were too "heavy-handed" in closing the party.
"I think it was because Charlotte Church was singing that we were asked to shut down the party... It was about 9.30pm. They shut it down without considering health and safety issues.
"People were turning nasty, throwing bottles and glasses on the floor.
"Even Charlotte Church was out clearing with us. We were there until about two in the morning."
'Joyous occasion'
He said the council should have asked for the windows to be closed and music turned down, adding: "Charlotte Church was brilliant, it was a joyous occasion. One complaint spoilt it for everybody."
A spokeswoman for the Robin Hood - which Church's mother used to run - confirmed that the singer and her aunt had performed a version of Summertime.
She said: "She had just finished her song when they stopped it. Everyone was really enjoying it."
"I think everyone was disappointed. It was almost like somebody pulled the plug out of a big street party."
A Cardiff council spokesperson confirmed it had received a complaint.
It added: "Cardiff council received a call at almost 9pm on Friday 29 April regarding loud music coming from the Robin Hood public house.
"In response noise officers visited the Robin Hood and saw that the front windows were wide open and music and karaoke was clearly audible outside.
"The officers discussed the complaint with the pub supervisor and it was agreed that the front windows would be closed and the karaoke terminated."
A spokeswoman for the singer said: "The party ending and Charlotte's performance were not linked."