South Wales Police chief Peter Vaughan saw drug deal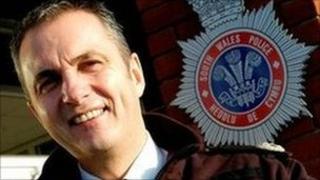 An off-duty chief constable who was giving his daughter a driving lesson in a library car park caught a drug dealer.
South Wales Police chief Peter Vaughan saw Christopher Williams pull up at the other end of the car park in Treharris and within moments another car arrived.
Merthyr Crown Court heard that Mr Vaughan then witnessed a drug deal taking place on 19 April 2010.
Williams, 37, was jailed for 32 weeks, suspended for two years.
Rachel Knight, prosecuting, said Mr Vaughan saw the deal as he kept an eye on the two cars at Treharris library.
"He passed the driver of the other car a small package by extending his hand out and handing it over," she said.
"Mr Vaughan thought it was suspicious and noted both registration number plates on his mobile phone."
Mr Vaughan was able to contact the control room and father-of-three Williams was arrested in the early hours.
After the case Mr Vaughan said: "Tackling drugs in our communities is high on our agenda, and we will act on all information to put drug dealers out of business and to take them out of the community.
Cannabis plants
"If anyone sees anything suspicious, I would encourage you to report it to the police. We need the public to keep telling us where these individuals are."
When his home was searched, officers discovered nine cannabis plants he was growing in his attic for his own personal use in an attempt to save money after losing his job.
Williams told police in interview that he had been helping out a friend with some drugs and had taken it to the car park to hand them over.
"It was a single wrap of low value," added Miss Knight.
Andrew Davies, defending, said Williams, who admitted supplying cannabis and producing cannabis, had decided to grow his own drugs in February last year after losing his job weeks before.
He said: "He has been stopped using it completely."
Judge John Curran also ordered Williams to carry out 200 hours unpaid work.