Norwegian Church Arts Centre unveils £500,000 revamp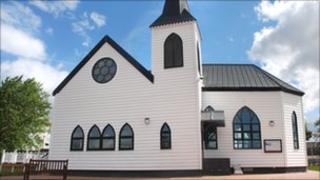 The Norwegian Church Arts Centre in Cardiff Bay is reopening after almost £500,000 worth of refurbishments.
New features include a pinewood terrace, an extension to the coffee shop, a lifting platform, new toilet facilities and a redesigned interior.
The renovations were funded by the Landfill Communities Fund and Cardiff Harbour Authority.
Cardiff councillor Nigel Howells said the work had secured the future of the premises "for many years to come."
"The church is an iconic part of Cardiff's history and it's wonderful to see that it has been renovated and given a new lease of life," said Mr Howells, executive member for sport, culture and leisure.
The reopening is being held on Tuesday to coincide with the annual Norwegian Day celebrations.
These will involve members of the Welsh Norwegian Society in traditional costume and a flag-raising ceremony.
'Sorely missed'
Hordaland county in Norway, which is twinned with Cardiff, assisted the project by donating pinewood.
The timber was transported to Cardiff in a topsail schooner last July, in time for the closure of the building in October for the renovation work to begin.
The refurbished centre will be open seven days a week, offering a programme of arts performances and exhibitions, as well as continuing to be the home of Hijinx Theatre, a theatre group for adults with and without learning difficulties.
The group's touring officer Emma Robinson said they were looking forward to returning to the church.
"While it's been closed it's been sorely missed," she said.
"We can't wait to get back to see it in all its glory."
The church was originally built in Cardiff's West Bute Dock in 1868 to provide religious and social care to Norwegian merchant sailors, but fell into disrepair after being closed in 1974.
The building was eventually saved by the Norwegian Church Preservation Trust (NCPT) who moved the church to its present site by the Roath Basin, where it was reconstructed and reopened in 1992.
The church is famous for its connection with children's author Roald Dahl, born in Cardiff to Norwegian parents.
He was christened there in 1916 and eventually became the first president of the NCPT, serving until his death in 1990.