Mohammed Musa murder: Accused 'acted in self defence'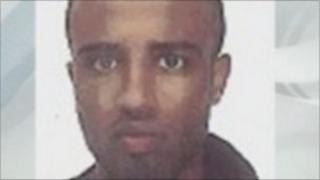 A man accused of murdering a friend outside a block of flats in Cardiff eight years ago was acting in self defence, a court has heard.
Mohammed Musa, 21, died after being struck on the head with a weightlifting bar in Butetown on 18 April 2003.
Mohamoud Mahad Ahmed, 28, of no fixed address, denies murder.
Michael Borrelli QC, defending, told Cardiff Crown Court the prosecution accounts were "riddled with inconsistencies". The trial continues.
"The defence does not accept that he intended to hurt anyone, rather he was acting in self defence," said Mr Borrelli.
"This was an accident altogether. There was no intent to cause anybody any serious harm."
The court was told Mr Mahad had become violent after a group of people he had argued with earlier that night arrived near a flat in the Butetown area, whilst he and his friends were inside.
Mr Mahad threw items out of the window but Mr Borrelli said this was not a sign of someone intending to murder.
"He was making a complete spectacle of himself inside that building," he told jurors.
"Everyone agrees he was drawing considerable attention to himself. He was throwing things out of the window.
"Was he trying to ensure he was collecting the maxiumum number of witnesses to the murder he was about to commit? It's a nonsense."
Mr Borrelli also rejected the prosecution's claim that when Mr Mahad came out the flat, he ran at the group of men.
He also said it was "not correct" that after hitting Mr Musa with the 5ft (1.52m) long bar, Mr Mahad was disarmed by another person.
"It may be correct in part but you cannot be comfortable with what these witnesses have always said," added Mr Borrelli.
"These are not people whose accounts you can safely rely on.
"A number of the prosecution witnesses confirmed what the defence tells you that as soon as he realised he struck Mr Musa he dropped the bar."
The court has previously heard that Mr Musa, a postal worker, died after he was hit with the pole in the late-night attack.
The prosecution claimed that Mr Mahad had been in an "angry and aggressive mood" when he swung the pole towards the group of people.
The jury was told that he "may not have intended" to strike Mr Musa.
Prosecutor Peter Griffiths QC said: "It was a massive blow and it fractured his skull not just in one place but almost as an egg-shell cracks."