Politicians oppose Skyflyer blimp plans for Cardiff Bay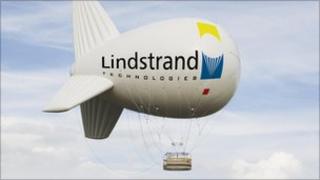 Two politicians have joined forces with residents at Penarth Marina to oppose plans for a giant flying blimp in Cardiff Bay.
The SkyFlyer - a tethered helium-filled balloon - would take tourists up 400ft (125m) for a 15-minute ride.
Cardiff South and Penarth AM Vaughan Gething and MP Alun Michael called the proposals "detrimental" to the area.
But Lindstrand Technologies Ltd said their plans would "provide a world-class ride" for visitors.
The proposed blimp is 100ft (31m) long and 55ft (17m) wide.
If approved, it will be situated near the lock and fish ladder on the Cardiff Barrage, providing a bird's eye view of Cardiff and the coast for up to 16 visitors at a time.
It will also be lit at night, providing the most high-profile advertising space in the city.
But residents in nearby Penarth Marina say it would threaten their privacy and ruin the landscape.
At a meeting with more than 50 residents on Monday, newly-elected AM Vaughan Gething said he and local MP Alun Michael were "jointly objecting" to the application.
"I have no problem with more attractions in Cardiff Bay," said Mr Gething.
"The problem here is that the proposed siting for the Skyflyer would have a huge detrimental impact on residents in Penarth Marina.
"The balloon will be much larger than the planning documents suggest and will intrude unacceptably on the privacy and amenity of nearby residents.
"In addition the lights on the adverts will cause an obvious nuisance until late at night."
Previous plans to locate the blimp near the Norwegian Church arts centre at Britannia Park have been blocked by Cardiff council.
An alternative proposal to move it to the south east side of Roath Lock met objections from developers and nearby businesses.
Location, location, location
Alwyn Evans, secretary of Penarth Marina and Haven Residents' Association, called the blimp's location "completely inappropriate".
"We have four main objections to this scheme - the inappropriateness of the location, which is directly facing a residential area; a significant increase in pressure upon parking at the barrage; the visual impairment it will bring to residents and the anti-social opening hours, which will be from 8am until 11pm," he said.
"Residents will be subjected to noise and also the visual impact of having a blimp bobbing up and down in their view.
"They are also worried about people on the ride being able to see in through their windows and into their gardens."
Marina resident Glyn Parry-Jones said the plans have been made with "a complete disregard" to residents.
A graphic designer, Mr Parry-Jones has produced mocked-up images of how the Skyflyer could look,
"It would be 140m from my house, literally on my doorstep and in my face," he said.
"I've drawn up a scale of this thing and it will look out of place.
"It's three times the length of my house. The scale of the thing is totally wrong. I'm sure there are plenty of other locations."
The original proposal was resubmitted with amendments after residents complained they had not had sufficient chance to object and a postcode on the application did not exisit.
The deadline for objections has now been extended to 2 June.
Representatives from the Vale of Glamorgan Council are making a site visit on Thursday.
Swedish adventurer Per Lindstrand, who runs Oswestry-based firm Lindstrand Technologies Ltd, said the blimp would be "a great addition to the waterfront".
"Normally people don't know what it is and they get a bit nervous," he said.
"But no one else has refused permission before."