Smaller bins 'key' for Newport recycling boost - report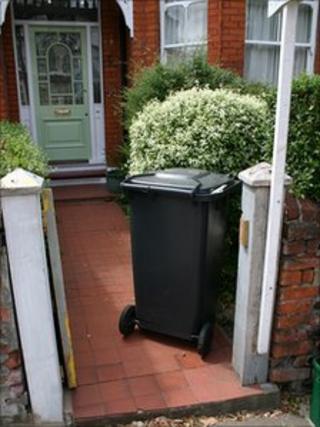 A council is looking at whether it can to boost its recycling levels by giving homes smaller wheelie bins.
More than 70 households in Newport took part in a three-month trial using bins a quarter or a third smaller than usual.
A strategy report sees the idea as a key plan for 2011-12, with a reduction in the size of waste bins helping to promote recycling.
Newport council said no firm proposals have been put forward.
Councils across Wales are under pressure to improve and maintain their recycling rates.
The Welsh Government has a goal for all councils to recycle 70% of all waste by 2025.
It also wants to see no more than 5% of waste being sent to landfill. Failure to comply could result in substantial fines.
Newport council collects waste from around 65,000 waste bins in the city with around 2,000 larger bins used in blocks of flats.
The idea of using smaller bins to cut the amount of waste collected is contained in the report before the local authority's Overview and Scrutiny Forum on Wednesday, looking at economic development and transport.
The Street Scene Service Plan aims include "a long term strategic view of waste recycling and sustainability by exploring innovation".
It said: "Reduced bin sizes encourage recycling."
A spokesperson for Newport council said the trial using smaller bins with volunteer households had gone well but no decision has been made on the results.
"The volunteers could have had their old bins bins back after the trial but most didn't."