Delme Bowen becomes first Plaid lord mayor of Cardiff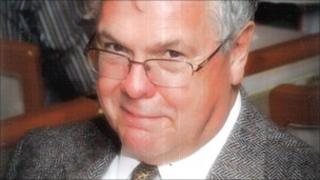 A retired professor has taken up the position as the first Plaid Cymru lord mayor of Cardiff.
Councillor Delme Bowen, who had been the city's executive member for transport, becomes the city's 107th lord mayor.
Mr Bowen was first elected a councillor in Cardiff in 1995.
"I have been involved in politics for many years and for me to be the lord mayor is one of the highlights in my political career," said Coun Bowen.
A former professor of cell biology at Cardiff University, Mr Bowen specialised in the research of human tumours and tumour cells lines.
He is author of several books and hundreds of research papers and on retiring in 2010 he was awarded the title of emeritus professor.
Alongside his scientific career, Mr Bowen has been involved in local politics for almost 30 years. He was Plaid's only councillor when first elected 16 years ago.
He described the period as '"being like an owl in the wilderness", but said his appointment as lord mayor was "a landmark for the party".
The member for Caerau and St Fagans ward stepped down as executive member for traffic and transport to take the position.
It is normally a politically neutral role. Official responsibilities include chairing council meetings and ceremonial duties.
Although the position of mayor of Cardiff goes back to 1126, it began to take its modern form only in 1835 when the first elected mayor took office.
Following the royal charter granting Cardiff city status in 1905 the position became known as the lord mayor.
Holders of the post were given the style of "the Right Honourable"; a ceremonial title shared only with the lord mayors of London, Belfast and York.