Mohammed Musa murder: Family still 'raw' eight years on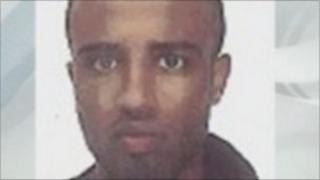 The family of a newly-married man, murdered by a friend with a weightlifting bar eight years ago, say they still feel "raw".
Mohammed Musa, 21, died after being struck on the head outside flats in Butetown, Cardiff, in April 2003.
Mohamoud Mahad Ahmed, 28, was given life on Thursday and told he would serve a minimum of 10-and-a-half years.
"Our family is devastated and forever broken," Mr Musa's sister Amina told Cardiff Crown Court.
"It was like a nightmare unfolding in front us but we were wide awake.
"Eight years on it is raw as the day it happened."
The court heard Mahad was in an "angry and aggressive mood" when he swung the pole at Post Office worker Mr Musa in the early-hours attack.
Mahad had become violent after a group of people he had argued with earlier that night arrived near a flat in Angelina Street in the Butetown area, while he and his friends were inside.
Mahad threw items out of the window before leaving the flat where the group were.
Prosecutor Peter Griffiths QC said: "He was armed with a weightlifting bar, in a violent, combative and aggressive mood struck the victim a massive and fatal blow to the head.
"It was a massive blow and it fractured his skull not just in one place but almost as an eggshell cracks."
Mahad picked up the 5ft (1.5m) long metal bar "like a baseball bat" and swung it towards a crowd of men.
Mr Griffiths added: "The person who it connected with was the unsuspecting Mohammed Musa.
"He poleaxed basically the unsuspecting Mr Musa and he dropped like a stone to the floor."
Mahad went on the run following the attack in 2003, but he was extradited from Canada last year to face justice.
Michael Borrelli QC, defending, had claimed prosecution accounts were "riddled with inconsistencies".
"The defence does not accept that he intended to hurt anyone, rather he was acting in self defence," said Mr Borrelli.
'Extreme violence'
"This was an accident altogether. There was no intent to cause anybody any serious harm."
But a jury of 10 men and two women rejected this and found him guilty.
Recorder of Cardiff Nicholas Cooke QC told Mahad said: "Your victim was a young, responsible newly-married father who had done nothing whatsoever to contribute your resorting to extreme violence."
Det Insp Dave Runnalls of South Wales Police said: "Whilst we are pleased that justice has been done, we should not forget the victim's family and friends, who continue to live with the consequences of this crime. Our thoughts are with them," he said.
"We hope this sends out a clear message to offenders that you cannot evade the law. We will pursue you relentlessly, wherever you may be, to bring you before the courts.
"We would like to thank the members of the public who helped us and came forward with vital information to assist the investigation."
Stan Soffa, of the Crown Prosecution Service said: "This has been an extremely complex case to prosecute and it is right to acknowledge the hard work of all those involved in bringing this offender to justice."